Description
Product Details
Aluminium swing door,It can effectively block the attack of wind sand.When the heat is unbearable, but also can block the outdoor hot, reduce the loss of indoor air conditioning;In the cold winter, it will not freeze, condensation, and noise can be kept out of the door.
Name

Aluminium Swing Door

Frame

Aluminium Alloy

Surface Finished

Powder coating or Customized

Glass Thickness

6mm thickness or Customized

Glass type

Customized

Color

Grey/Blue/black/White/Customized

Hardware

Top Brand Hardware

Packaging

Air Bubble Film + Plastic Film

As per your specific requests

Warranty

More than 5 years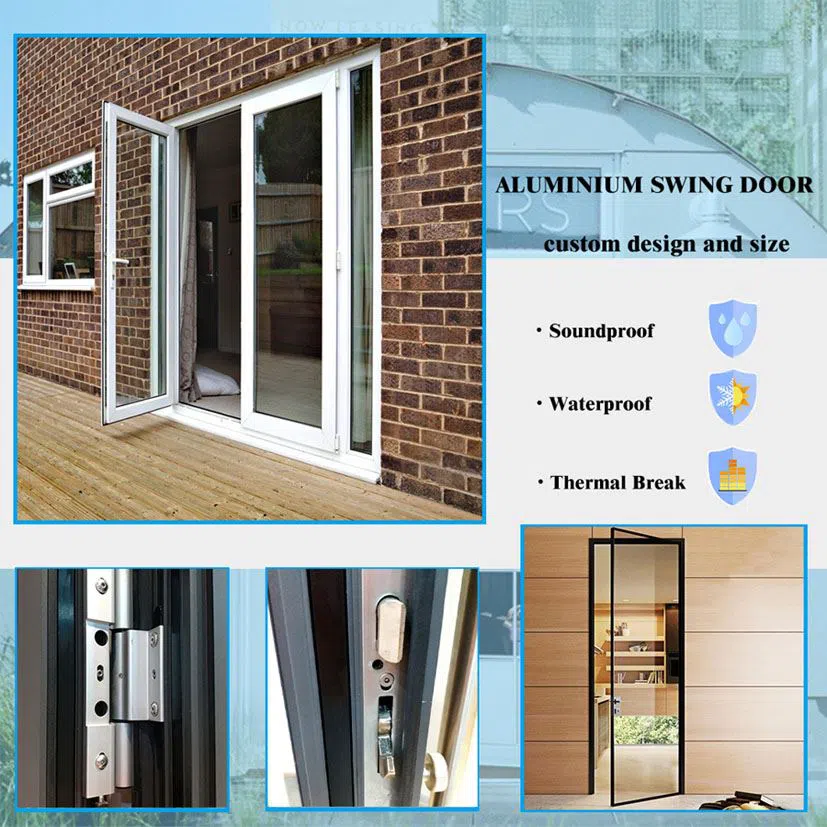 The advantages of door
(1)Its outside part USES the aluminum alloy die extrusion profiles, surface electrostatic powder coating or carbon coating, can resist the ultraviolet ray in sunshine and nature in various corrosion, can have a variety of colors and patterns for the owner to choose, can also be coordinated with indoor all sorts of adornment style, good decorative effect, and paint and interior decoration as a whole,
The frame line has the American style and the modern feeling, because the door frame profile blocks the indoor and outdoor energy transmission heat bridge, the energy saving effect is very obvious.
(2) The use of multi-channel sealing, the opening part and the door frame between the use of the curtain wall of the same pressure cavity waterproof principle design, waterproof, sealing performance is excellent, waterproof, sealing performance is better than the general aluminum door.
(3) The glass part can choose hollow toughened glass, off-line LOW-E glass, glass, laminated glass, etc., can also be filled with inert gas, if equipped with warm edge glass spacing strip, the insulation effect will be.
(4) The use of famous brand hardware, product performance is stable, high quality, long service life, open, close feel is quite good.
(5) Adopt the installation method of first installing the auxiliary frame, then installing the main frame, with high installation accuracy and good construction quality.To ensure the waterproof performance of the door.