Description
Product Details
The folding door is mainly composed of door frame, door leaf, transmission parts, swing arm parts, transmission rod, orienting device, etc. The boundary of one side door leaf and the middle door leaf are connected by a hinge, and the upper and lower ends of the other side door leaf are separated by the upper and lower shafts. , The hinge is connected with the upper and lower hinge seat of the door frame on both sides of the door hole, the side door stile will rotate around the side stile, while driving the middle door leaf to rotate together to 90°, so that the door leaf can be opened and closed; this door type avoids installing indoors and the ground.
Name/Model

Aluminium Alloy Folding Door

Size

Can be customized

Frame

T5-6063 high quality aluminium profile

2.0mm thickness profile

Black powder coating /other color and surface finish

Glass Choice

Clear tempered glass/reflective glass/frosted glass/low-e glass/other

5mmm,6mm,8mm,10mm,12mm single glass

5+12A+5mm/6+12A+5mm double glass

5+6A+5+6A+5mm triple glass

Other glass color,type and thickness you need

Hardware

China top brand: KINLONG and 3H brand/can be customized

Guarantee

Usually 10years

Application

Commercial building: Office building,shopping mall,hotel,school,etc

 

Residential building: Villa,housing estate,etc
Advantage:
1, Folding doors have the advantages of beautiful appearance, novel styles and diverse designs. 2, Easy to use, free push and pull, effectively saving the space occupied by the door. 3, Folding doors have chemical stability, such as light weight, heat insulation, cold and heat insulation, moisture resistance, fire and flame retardant, noise reduction and sound insulation, acid and alkali resistance, and corrosion resistance. 4, It does not stick to oily fume, is not easy to clean, and is not easy to change color. It is suitable for kitchen, bathroom, toilet and other occasions. 5, Installation is simple and quick, with long service life and easy maintenance.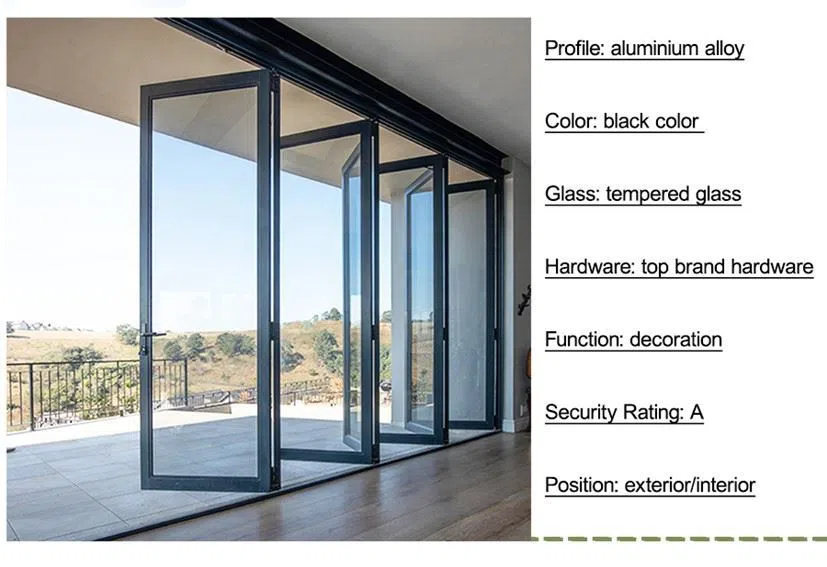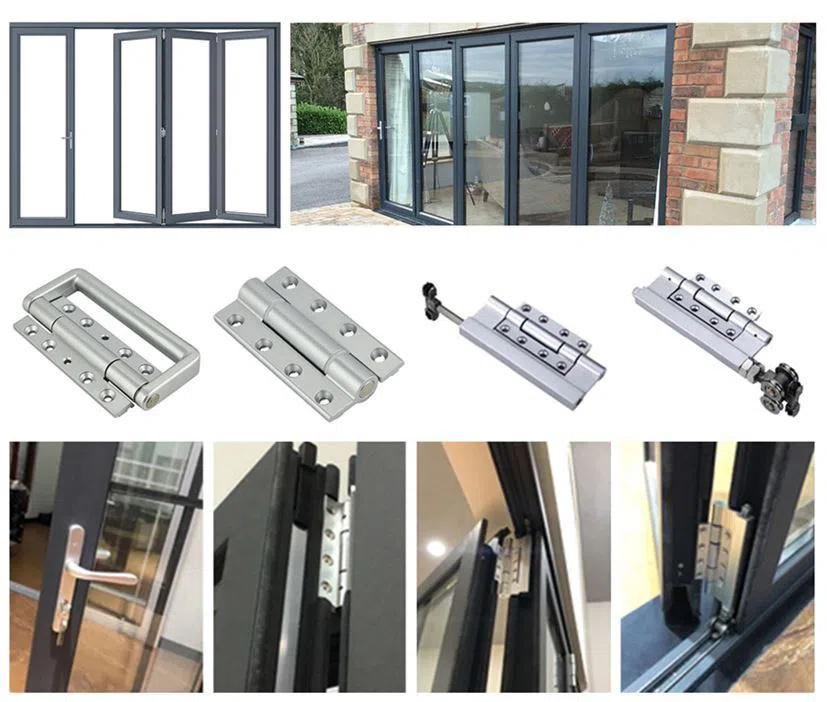 Installation:
1.Confirm whether the track length is correct. If it is too long, use a saw to cut off the protrusion. Be careful not to let the wood chips enter the track.
2.Insert the folding door into the rail in the folded state.
3.Confirm the direction of the handle and the installation direction of the simple lock, and then install the slide rail. Tighten the screws in sequence from the center to the left and right. After installation, untie the rope binding the folding door.
4.Install the iron-absorbing plate, align it with the position of the iron-absorbing stone on the folding door in advance, and then tighten the iron-absorbing plate with screws.