Description
Product Details
Aluminium swing doors are hinged along one side of the door to allow the door to leave the door in one direction and not the other. The axis of rotation is not in the plane of the door to reduce the space required on the side to which the door opens. Aluminum swing doors can be used in different environments. Use flat doors for easy access to gardens, terraces, terraces or recreational areas, which are versatile and practical.
Name
Aluminium Sliding door
Frame
Aluminium Alloy
Profile Thickness
2.0mm/1.8mm/Customized
Surface Treatment
Powder coating
Anodizing
Electrophoresis
Wooden Grain
Glass type
Customized
Color
Grey/Blue/black/White/Customized
Hardware
Top Brand Hardware
Packaging
Air Bubble Film + Plastic Film
As per your specific requests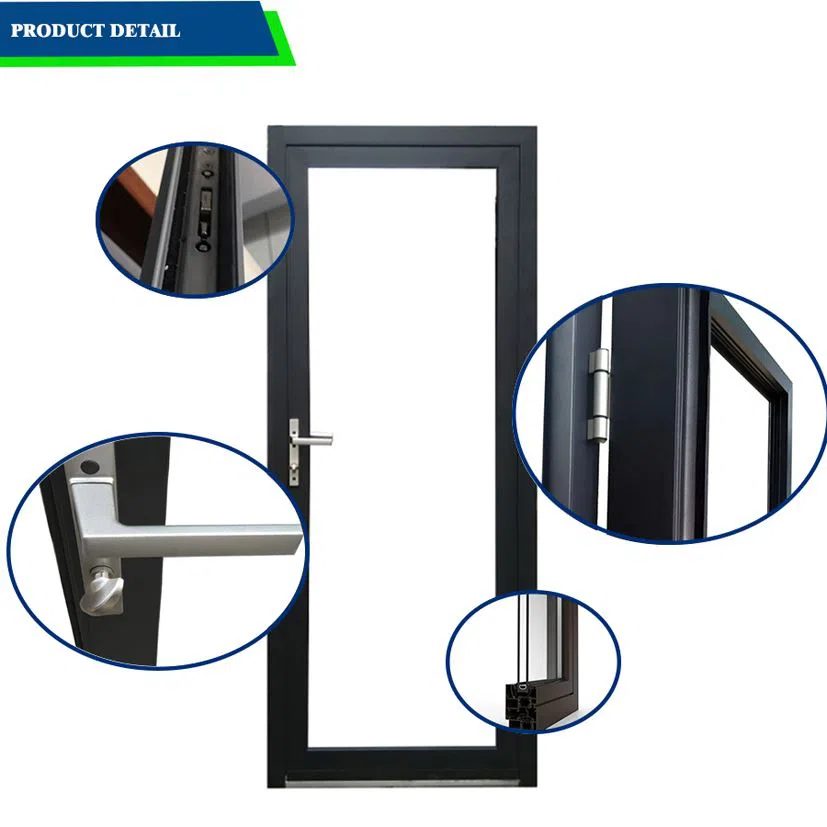 High-quality aluminum profiles have high aluminum strength, good sealing performance, good corrosion resistance, high gloss, fire resistance, heat insulation, and sound insulation.
It can be opened smoothly at 90 degrees and has a strong waterproof and anti-corrosion function.
The stainless steel wire mesh is safe and anti-theft, easy to ventilate, anti-corrosion and abrasion, and will not fade or deform.
Thermal insulation. Constant temperature glass has high strength and strong impact resistance.
The aluminum hinge has strong bearing capacity, the muffler is silent and corrosion resistant, and opens smoothly.
High-performance sound insulation and high-quality silica gel strip, light weight, good elasticity, and long service life.