Description
Product Details

More and more people would like to have a reasonable planning design of house. Shower cubicles are widely uesd in personal house and other buildings. Shower cubicles separate dry and wet area to make sure functionnality of different area.
Product Name

Shower cubicle

Frame

Aluminium alloy or frameless

Appearance style

1.Square

2.Half- round

3.Diamond

4.Horizontal

Hardware

Top brand hardware

Glass thickness

6mm

Glass Type

Tempered glass

Glass finished

Clear, pattern, and frosted, etc.

Application

Hotel, apartment, and villa, etc.

Factory

Yes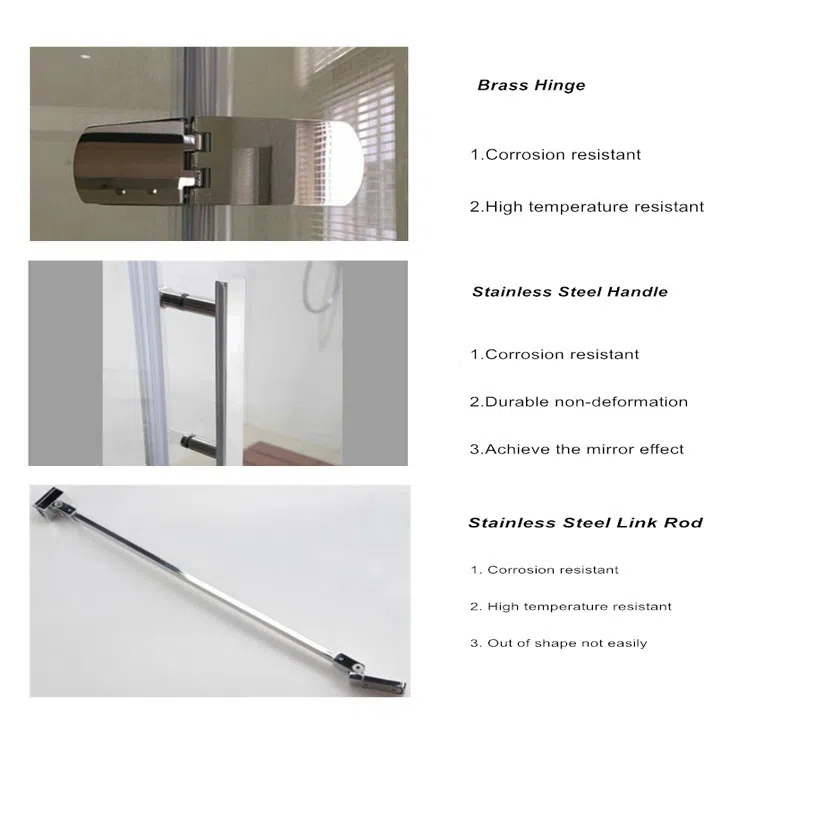 Advantages:
1, Dry and wet separation
Integral shower room can divide an independent wash bath space, accomplish dry and wet separation.Room of integral shower is installed in toilet is more reasonable choice.Can create a relatively independent wash bath space to avoid mutual influence so, convenient daily life.
2. Save space
The space of some domestic toilet is small, install no less than bathtub, and shower room can save many Spaces.With the integral shower room, when using the shower head, the water will not splash outside and make the whole toilet floor wet.
3. Insulation effect
Winter, use integral shower room to still can have the effect of heat preservation.Water vapor is gathered in a small space, the heat will not be lost quickly, let a person feel very warm.And if the bathroom is larger, and there is no shower room, even if there is heating, also often feel very cold.
4. Decoration
The modelling of integral shower room is rich, colour is bright-colored, besides having the function that wash bath, itself still is a very good adornment.
What we use:
 High Quality Aluminum Frame
Through step by step inspection, meet your quality demands. Aluminum profile design With 20mm adjustment.
Wheel
Made of stainless steel, long using life and reasonable price. And the screws can adjust the degree of tightness.
Handle
Different shapes and designs are for your selection. Freely choose the handle equipped with the glass shower room.
Door Hinge
Brass hinge, elastic closed popular design, high quality and long using life.
Telescopic Support Bar
High quality stainless steel support bar,adjustable size, custom-made.
SS Rail Bar
High-end design with reliable quality, enable the wheels to slide smoothly.
Aluminum Threshold Strip
Made of aluminum material. look more luxury, which avoid the water flow out effectively.
Nut Cap
Beautiful and popular design,covering the naked screws Magnetic Strip. Excellent magnetic attraction force.