Description
Product Details
1.Firm and strong. Under the same thickness, the impact strength of tempered glass is 3-5 times that of ordinary glass, and the bending strength is 3-5 times that of ordinary glass.
2.Safety tempered glass is damaged by external forces, will be broken into rounded honeycomb particles, not easy to cause damage.
3.Tempered glass has good thermal stability, can withstand 200° temperature change, tempered glass can withstand the temperature difference is 3 times of ordinary glass.
4.Adopt PVC this new environmental protection material, no matter in winter or summer, elasticity and strip hardness have no obvious change.
5.Stainless steel frame stainless steel weight resistance, corrosion resistance, no rust, long service life.
L handle modelling smooth and graceful, feel comfortable, can also do bath towel rack.
Name

Shower cubicles

Frame

Aluminium alloy or frameless or SS 304/316

Appearance style

1.Square

2.Half- round

3.Diamond

4.Horizontal

Hardware

Top brand hardware

Glass thickness

8-10mm

Glass Type

Tempered glass

Glass finished

Clear, pattern, and frosted, etc.

Application

Hotel, apartment, and villa, etc.

Factory

Yes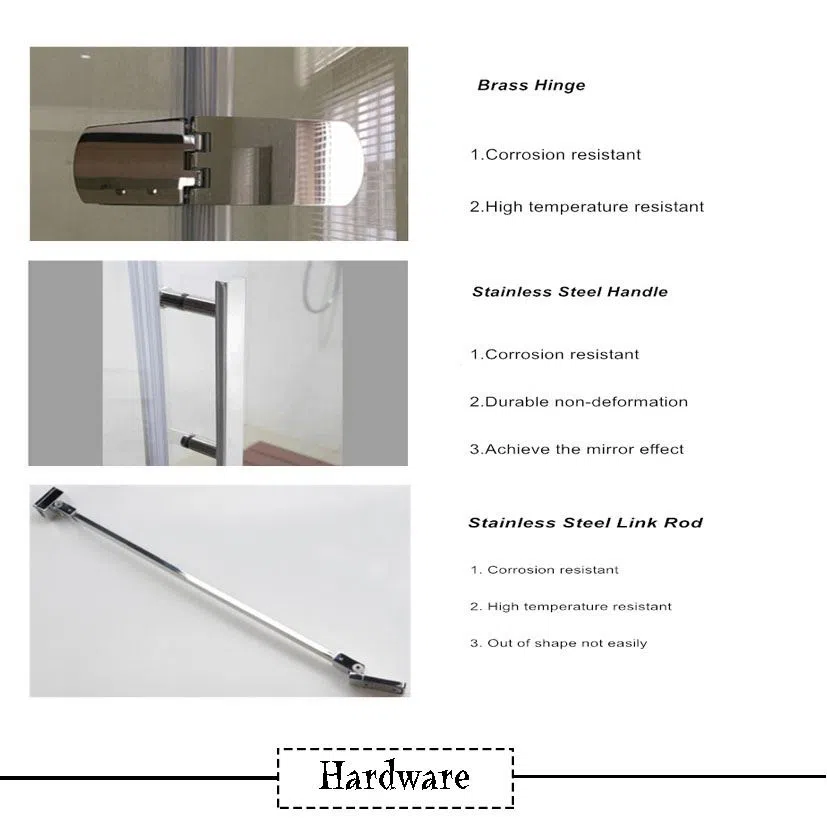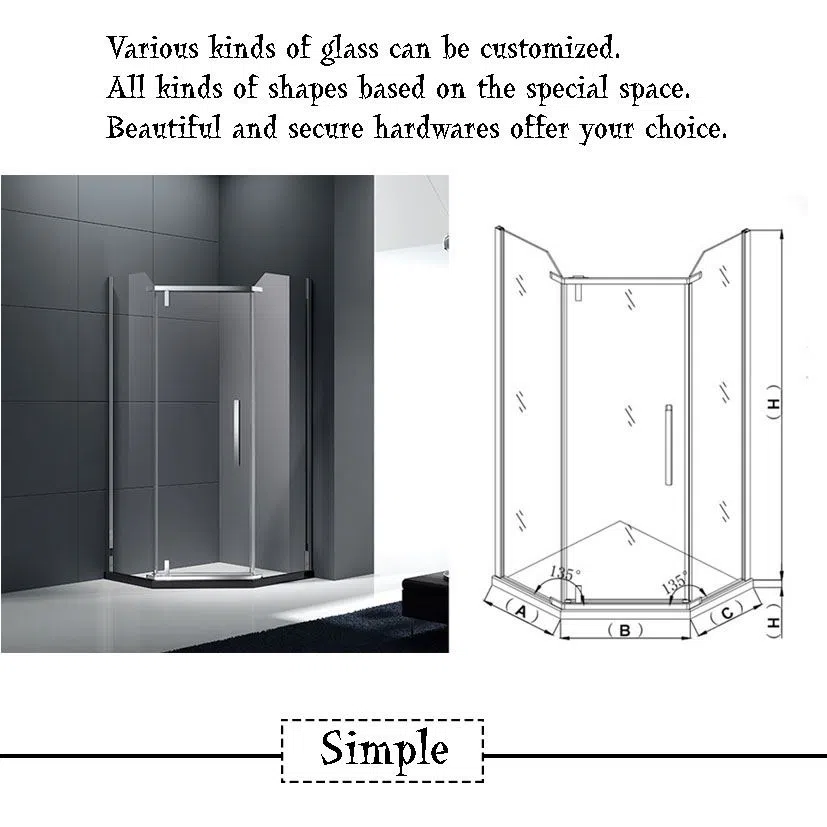 1. Main system spindle lifting system, zinc alloy base. Stylish square silhouette design, 15mm adjustment. The fulcrum system has passed 100,000 lifting tests.
2. Hinge system brass or stainless steel hinge, elastic closure, elegant design. Pass 50,000 open and close tests.
3. Electroplated double wheel roller system, 304 stainless steel bearings. Good quality and long service life. The roll has passed 60,000 tests of sliding cycle operation.
4. Large roller brass or 304 stainless steel roller, popular design. The roller has passed 100,000 cycle running tests. Fit the soft plug.
5. High quality 304 stainless steel support rod. Adjustable size, customized.
6. Hardware quality 304 stainless steel hardware and installation tools (socket wrench, etc.)