Description
Product Details
Aluminium swing door is a anti-theft door of demand on the market at present, some standards say this kind of door is divided into two kinds of door and enter a door.
In order to distinguish between indoor and outdoor a door, so in addition to anti-theft, but also involved in heat preservation, sound insulation, beautiful and many other aspects.
Name

Aluminium Swing Door

Frame

Aluminium Alloy

Surface Finished

Powder coating or Customized

Glass Thickness

6mm thickness or Customized

Glass type

Customized

Color

Grey/Blue/black/White/Customized

Hardware

Top Brand Hardware

Packaging

Air Bubble Film + Plastic Film

As per your specific requests

Warranty

More than 5 years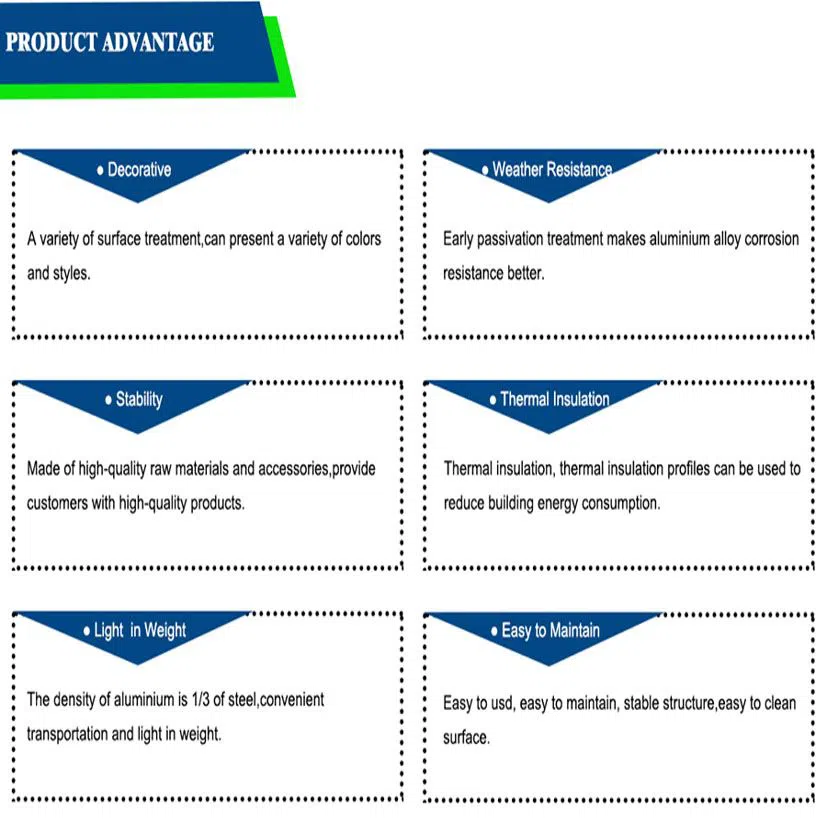 Feature:
● Profile wall thickness up to 2.0mm suitable for a variety of environments.
● Featured craft glass with high quality titanium magnesium aluminum alloy profiles refined, semi-permeable or impermeable glass to show the beautiful space of personality.
● Clear and bright appearance, using Italian thermal transfer wood grain, carbon spray color, door and door surface can be used in different surface treatment and color matching.
● Excellent structure design, is built on the European standard trough based on the flat door system.
● Scientific installation and high quality spraying process effectively improve the heat loss of doors and    windows.
● Economically and reasonably designed, it has the function of preventing water seepage and air permeability.
● Precise collision Angle and joint process to ensure the door sound insulation.
● Scientific cavity structure and environmental friendly EPDM adhesive strip seal, improve the water resistance.
● Good durability, easy to use and maintenance.
● Aluminum alloy doors and Windows do not rust, do not fade, do not fall off, almost no need to maintain, the service life of spare parts is very long.
● Laminated or packed according to your request.