Description
Product Details
Aluminium swing doors can be divided into single-open and double-open according to the number of door panels. Single-opening door means that there is only one door panel, one side is used as the door shaft,and the other side can be opened and closed, while the double-opening door has two door panels, each with its own door shaft, which opens in two directions.
1. Aluminum alloy swing door, high safety, no noise when opening and closing.
2. It has more rubber protective layer than other doors.
3. With higher resistance to wind pressure, air penetration and rainwater leakage, it can meet the needs of any high-rise building.
4. It is an internationally recognized high-end door product.
Name
Aluminium Swing Door
Frame
Aluminium Alloy
Surface Finished
Powder coating or Customized
Glass Thickness
6mm thickness or Customized
Glass type
Customized
Color
Grey/Blue/black/White/Customized
Hardware
Top Brand Hardware
Packaging
Air Bubble Film + Plastic Film
As per your specific requests
Warranty
More than 5 years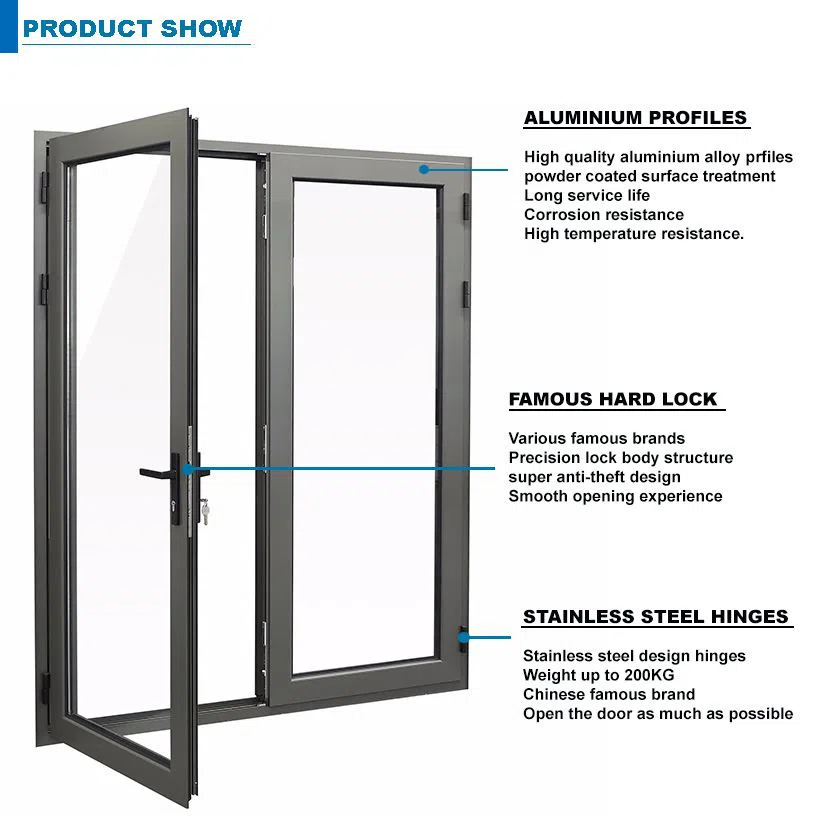 Lock
1. Customized door latch.
2. Ingeniously combine the transmission mechanism with the square shaft.
3. Adopting gear transmission, smooth opening and closing.
4. Multi-point lock to improve safety performance.
Hinge
1. Modular design hinge, easier screw position and faster installation, configuration options can be customized according to customer requirements.
2. Separate fixtures, no need to install, which greatly improves the efficiency of hinge installation.
3. Stainless steel material, wear-resistant and durable. And has a strong carrying capacity to prevent the fan from sagging