Description
Product Details
80 Folding door system is able to transform any interior into a totally different view, while offering home owners flexible access and optimum security by using a 2-point locking system that secures both top and bottom of the door panel. Using specially designed heavy duty pivot system, rest assured that you've got a great and easy to use product in hand. So sit back, relax and enjoy the view. Above all, 80 folding door can be built up as high as to 3 meter in height.
Type

Aluminium Folding Door

Main Material

Aluminium Alloy

Glass Type

Single tempered glass

Double Tempered glass

Frosted glass

Other

Color

White,Black,Grey,Blue,Green

Any color for your choice

Size

Customized size

Application

Bedroom,Kitchen,Balcony,Living room,Study

Packaging

Air Bubble Film + Plastic Film

As per your specific requests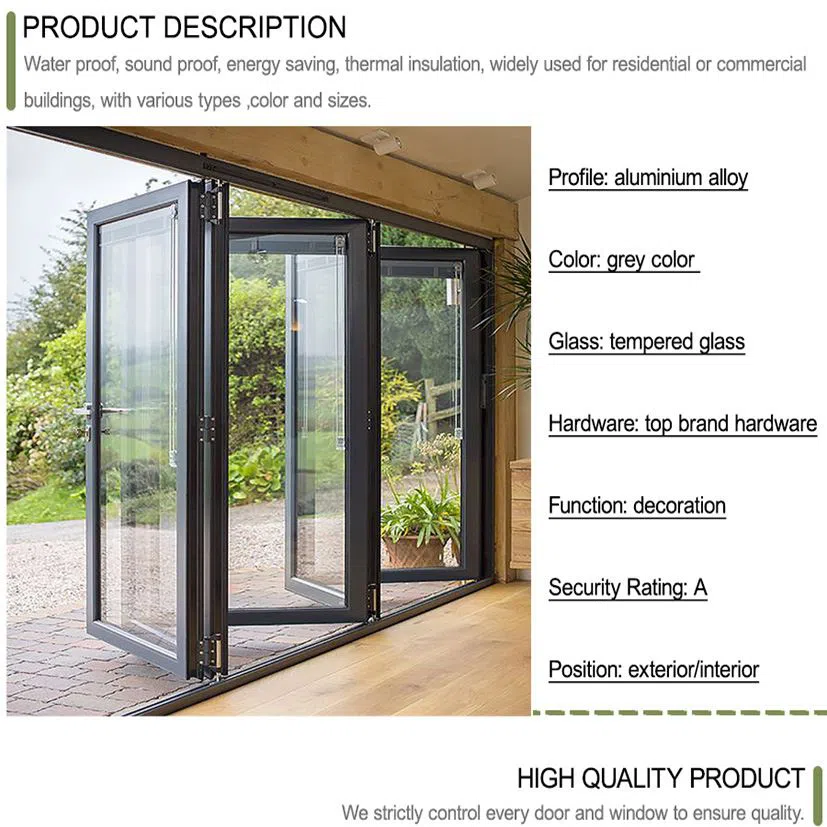 Open your home up to beautiful views, allow the nice weather indoors, enhance airflow, or entertain guests in an open environment between your outdoor patio and the interior of your home. Create an open floor plan to instantly enhance the way you feel in your home. When opened, the panes can be conveniently folded up outside to maximize the living space, or inside to blur the visible boundary when looking from outside. The applications are limited by your imagination, and no goal is beyond reach.