Description
Product Details
Aluminum folding door
Folding door system is able to transform any interior into a totally different view, while offering home owners flexible access and optimum security by using a 2-point locking system that secures both top and bottom of the door panel. Using specially designed heavy duty pivot system, rest assured that you've got a great and easy to use product in hand. So sit back, relax and enjoy the view. Above all, folding door can be built up as high as to 5 meter in height.
Type
Aluminium Folding Door
Main Material
Aluminium Alloy
Glass Type
Single tempered glass
Double Tempered glass
Frosted glass
Other
Color
White,Black,Grey,Blue,Green
Any color for your choice
Size
Customized size
Application
Bedroom,Kitchen,Balcony,Living room,Study
Packaging
Air Bubble Film + Plastic Film
As per your specific requests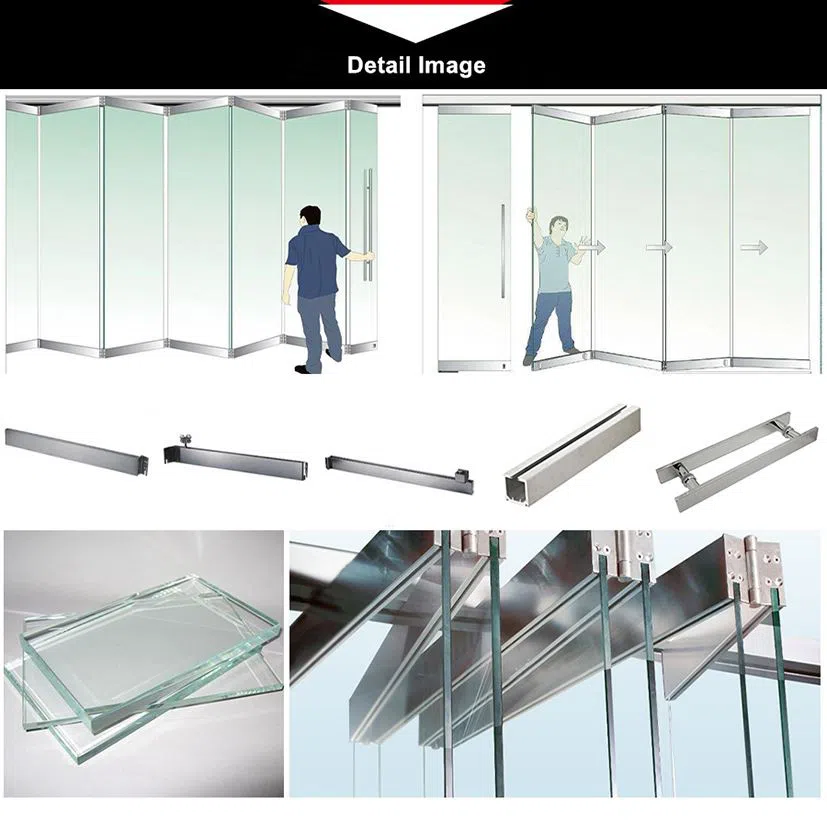 Aluminium alloy of the heat insulation of advantages,
1.Energy saving: the remarkable energy saving effect of K value of 2.0 ~3.0 W/M2.K, energy-saving 30% to 40%.
2.The sound insulation, good sound insulation performance, reduce noise 30-50 db.
3.Insulation: condensation coagulate frost prevention function, the window clean and bright.
4.High intensity, wind resistance performance after reach the standard level 1.
5.Good air tightness, reach the standard level 1.
6.3 room design principle, high stability, mechanical performance is excellent, middle seal design, double sealing effect.
Main Features:
High quantity aluminum profile: our power coated aluminum profile with heat insulating strip, sealing strip and durable finish and fireproof surface treatment, excellent sealing performance, heat & sound insulation, satisfied corrosion resistance.