Description
Product Details
Aluminum alloy 50 series is the hidden window sash structure independently developed by our company (that is, the inside of the window sash and the inside of the window frame are flush, hidden hardware open), the whole window extremely noble, high-end, atmosphere;
Window sash hidden in the form, for interior decoration (windowsill, window cover and other supporting facilities), maintenance and so on to provide a convenient condition, for the performance of the whole window to enhance a level.
Builtec recommends 50 series aluminum doors and windows
A. Sand resistance up to grade 8
B. Sound insulation performance level 4
C. Rain or thunder,can help you sleep at ease
Builtec choose good quality aluminium profile. The whole window of the aluminum profile treated by science and technology achieves the effect of fire prevention and lightning protection.
Resistance for thunder and fire proof
aluminum windows & doors is connected with main frame of
building, which can resist for thunder attacking. At the same time, Aluminum
materials is resistance for flame, it can reduce the risk of fire.
Name
Aluminium Casement Window
Profile material
Aluminium alloy 6063-T5 can be thermal break
Aluminium Treatment
Powder coating/Anodizing/Electrophoresis/Wooden grain
Size
Customized
Color
Blue/Black/White/Red/Grey etc.
Glass
Single glass/double glass/Reflective glass etc.
Packaging
Air bubble film+Plastic film/As per your special requirements
Warranty
More than 5 years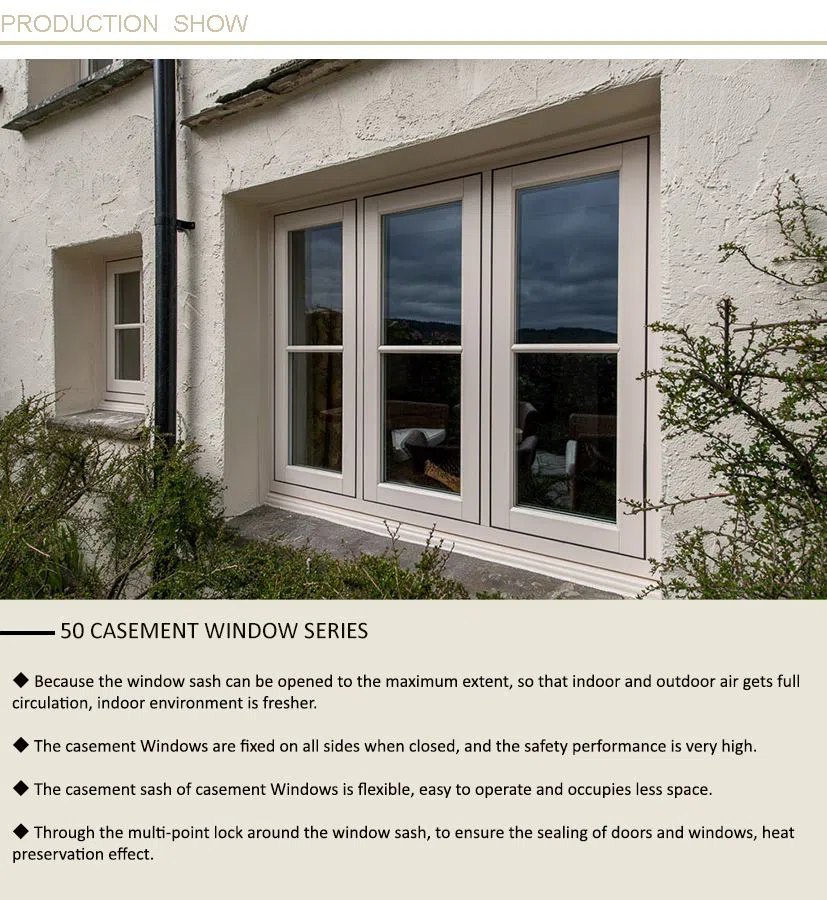 1.Equipped with standard domestic Kinglong hidden inner opening inner inverted hardware system, the opening is smooth, simple and smart;
2.The use of three sealing and advanced hidden drainage structure, to create extremely excellent waterproof performance, sealing performance, energy saving performance;
3.The use of high quality EPDM long tail sealing tape, so that the glass gap is separated into multiple cavities, heat preservation silent.
4.Achieve 80,000 times of barrier open, powder coating treatment, the whole window affordable, durable.