Description
Product Details
The folding door is beautiful in appearance, novel in style, diverse in color, easy to use, free to push and pull, and effectively saves the space occupied by the door; folding doors are mostly made of lighter new materials, which are insulated, insulated, moisture-proof, fire-retardant, noise-reducing and noise-proof. It has good performance in acid and alkali resistance and corrosion resistance. Therefore, folding is especially suitable as a modern bathroom door and kitchen door and balcony door.
Type

Aluminium Folding Door

Main Material

Aluminium Alloy

Glass Type

Single tempered glass

Double Tempered glass

Frosted glass

Other

Color

White,Black,Grey,Blue,Green

Any color for your choice

Size

Customized size

Application

Bedroom,Kitchen,Balcony,Living room,Study

Packaging

Air Bubble Film + Plastic Film

As per your specific requests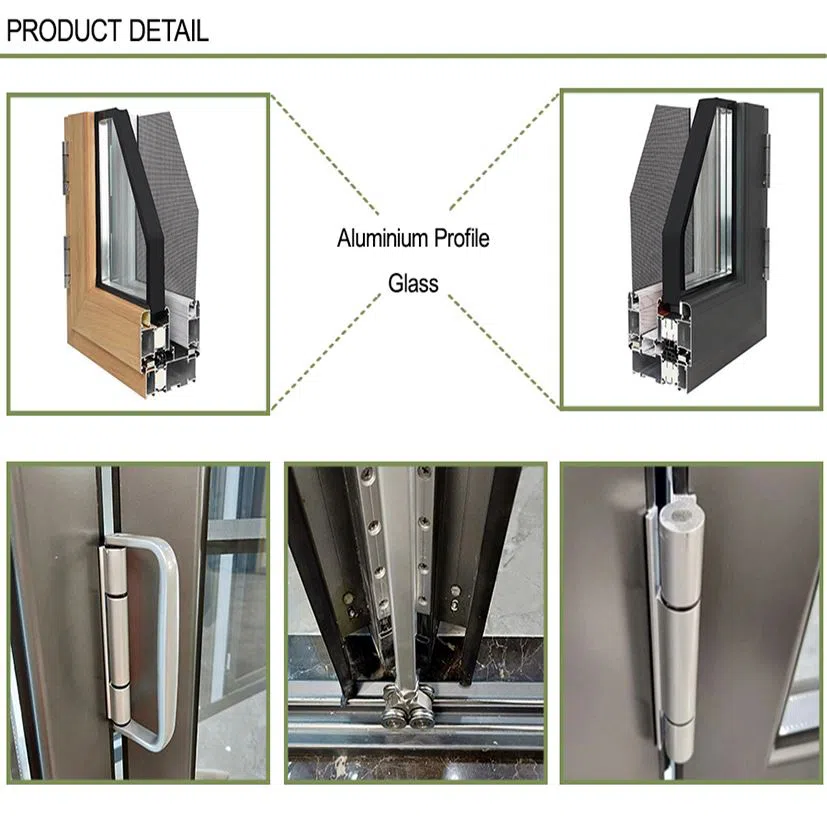 Aluminum Alloy
 1. Large section design of the profile, the interal fan material adopts the integrated design, and the principle of equal pressure and decompression between the outer frame and the inner fan Improves the airtightness of the door and window and the torque resistance of the profille itself, the drop hammer impact, etc.
 2. The door frame adopts two-chamber design, Strong rigidity and independent drainage cavity to ensure smooth drainage under any circumstances.
 Handle
 1. Aluminum alloy door custom bolt.
 2. The organic combination of the transmission mechanism and the square shaft.
 3. Built-in gears, the transmission is stable and smooth.
 4. Multi-point locking, high safety performance.
 HINGE
 Hinged between leaves Can carry heavy weight leaves.
 Hinges of the modular design, easy to screw the accurate positioning, achieve fast installation.
Wheel
 The bottom sliding system has a bearing capacity of up to 400KG, and even when the door leaf is large, the sliding direction can be smoothly slid, stable and noise-free.