Description
Product Details
With the development of society and the improvement of economic level, people's pursuit of the quality of life is getting higher and higher. The quality of life is not only the overall presentation of the home atmosphere, but also closely related to every household product in the home. The moment you walk into the balcony, it seems that the soul has evolved. The installation of sliding doors between the balcony and the living room not only preserves the independence of the balcony space, but also closes the connection between different spaces, making the balcony space a home life that cannot be ignored. Where the quality lies. As a semi-open space, the balcony can not only relax, but also feel the smoke and fire in your own home.
ring stationary panel.
Name
Aluminium Sliding door
Frame
Aluminium Alloy
Profile Thickness
2.0mm/1.8mm/Customized
Surface Treatment
Powder coating
Anodizing
Electrophoresis
Wooden Grain
Glass Type
Customized
Color
Grey/Blue/black/White/Customized
Hardware
Top Brand Hardware
Packaging
Air bubble film+Plastic film/As per your special requirements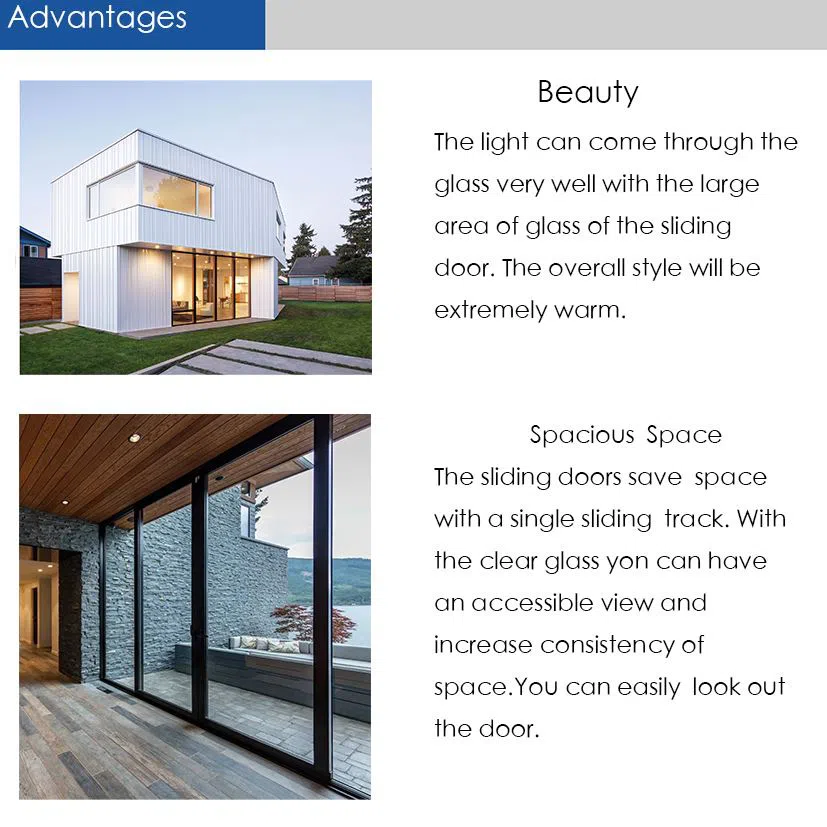 Advantages:
Diaphragm: Go back indoors, close the balcony door, and let life return to yourself. The lifting sliding door of the 130 series broken bridge sliding door is equipped with EPDM material sealing tape and 27A hollow soundproof glass, which has more outstanding sound insulation performance.
Heat insulation: to achieve energy saving and environmental protection invisibly, adopting the 130 series broken bridge sliding door with broken bridge structure design, the heat insulation performance is greatly improved, and the heat insulation is better, and the air conditioning and refrigeration effect is better.
Daylighting: Poor indoor daylighting not only affects the mood of the occupants, but also invites friends to be guests at home, and also does not allow friends to relax. Both parties are in a more depressing space. The 130 series of broken bridge sliding doors are designed with narrow hooks, and the lighting area has been greatly improved. Outdoor sunlight can freely roam indoors. Whether it is indoors or on the balcony, it is an excellent meeting place.
Safety: In the absence of parental care, use 130 series broken bridge sliding doors to form an active space between the living room and the balcony. The children are in a safer home environment to avoid accidents and give parents more peace of mind.