Description
Product Details
About installation
Verify the track length is correct and you can cut the extra part. Be careful not to let sawdust into track.Insert the folding door onto the track in the strapping state.
Verify the direction of handle and simple lock of installation and then install track. Tighten the screw according to the order from middle to left and right. Untie the rope bundling up the folding door after installation.
Position the magnets on the folding door properly before installing magnets. Then tighten the magnets using screw.
About maintaining
Please use neutral detergent if there is dirt on the surface of the folding door. Wiping away the dirt with towel which must be wet towel. Please don't use organic solvent to prevent the folding surface from fading. Folding door is easy to clean and not easy to dirty. The dirt can be wiped easily.
Name

Aluminium Folding Door

Open style

Folding

Profile Thickness

2.0mm thickness or customized

Glass

Single tempered glass,

Double tempered glass,

Laminated glass,

Low-e glass,

Frosted glass,

Tinted glass,

Reflective glass,

Etc

Size

Customized

Packaging

Air bubble film+Plastic film

As per your special requirements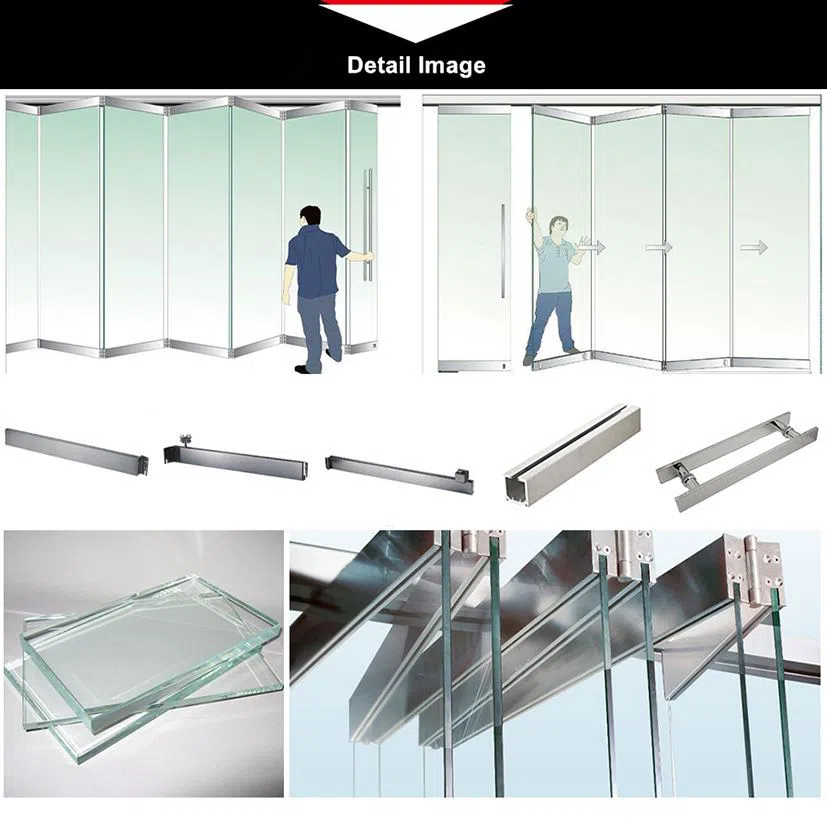 About advantages
a. Beauty, modern style, various colors.
b. Convenient use, fluent push and pull, space saving.
c. Light frame, heat preservation, moisture proof, fireproof, sound insulation, acid and alkali resistant.
d. Easy to clean, not stained with lampblack, not easy to change color, fit to kitchen, bathroom and toilet.
e. Simple and quick installation, long service life, convenient maintain.