Description
Product Details
Aluminum folding doors help you get an unobstructed view of the outside and let in plenty of natural light, and ensure that you are protected from bad weather. The overall style is simple and beautiful, saving indoor space and increasing indoor lighting. 
Characters:
1 The high-precision aluminum alloy with a wall thickness of 1.8 is used, which is very strong and durable; 
2. Using high-grade slide rails, sliding smoothly and freely, no noise when opening and closing;
3. Has good air tightness, water tightness, heat insulation, sound insulation, safety and reliability, long service life, etc. Aluminum folding doors are widely used in living rooms, balconies, showrooms, sliding doors, bookcases, wall cabinets, etc.
4.Accessories: hidden hinge design, with thick adhesive strip, with anti-pinch function
5.Design: Modern elongated frame and handle design.
6.Hardware: Rugged KSBG folding hardware passes more than 100,000 close tests with larger bearings. Strengthen hardware configuration, door height 4.5 meters.
7.Glass: standard configuration of double tempered glass, sound insulation, heat insulation, higher safety.
Type

Aluminium Folding Door

Main Material

Aluminium Alloy

Glass Type

Single tempered glass

Double Tempered glass

Frosted glass

Other

Color

White,Black,Grey,Blue,Green

Any color for your choice

Size

Customized size

Application

Bedroom,Kitchen,Balcony,Living room,Study

Packaging

Air Bubble Film + Plastic Film

As per your specific requests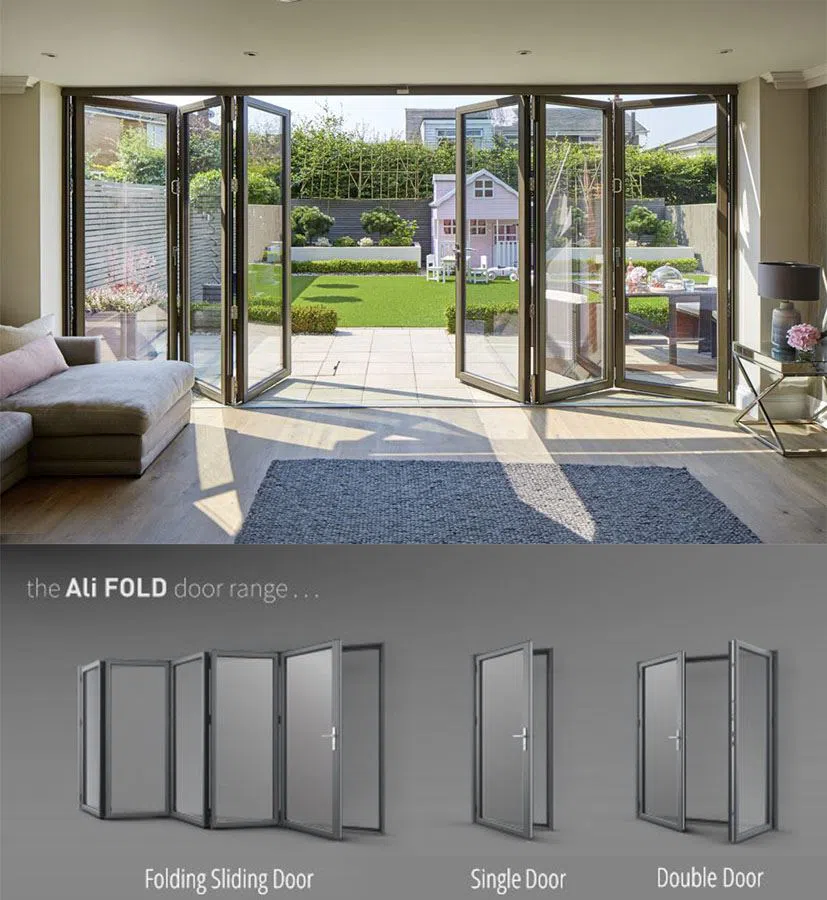 Advantages:
1 Profile large section design, internal fan material using integrated design, air outlet and internal fan pressure decompression principle: frame and internal fan to improve the air tightness of doors and Windows and profile itself torsion resistance.
2.Dropping hammer impact, etc.
3.Door frame adopts double cavity design, strong rigidity, independent drainage chamber, to ensure smooth drainage in any case.The bearing capacity of the bottom sliding system can be up to 400KG. Even if the door is large, the sliding direction can also be smoothly sliding,stable and noise-free.
4. Aluminum alloy door customized bolts.Transmission mechanism with square shaft organic built-in gear.smooth transmission, multi-point locking, high safety performance.