Description
Product Details
Curtain wall is a new type of wall in the contemporary era. Its most important feature is the organic integration of architectural aesthetics, architectural functions,building energy saving and architectural structure, which is not only simple , luxurious and with modern sense, and can reflect the surrounding scenery with a good decorative effect,but also combine the wall with the window, which greatly reduce the weight of the building. The outer glass of the curtain wall is coated with colored metal coating on the inner side. The whole outer wall is like a mirror in appearance.It reflects the scenery of the sky and the surrounding environment and has rich facade changes to make buildings to take on different shades of light from different angles.At the time of transformation, the images are colorful and varied, giving people a dynamic beauty.
Product Name

Curtain wall

Product Frame

Aluminium alloy

Aluminium Thickness

2.00mm-3.00mm

Aluminium treatment

1.Mill Finish

2.Powder coating

3.Polished

4.Electrophoresis

Glass Type

Customized

Glass Color

Blue/clear/customized

Use Place

Building and construction

Warranty

More than 5 years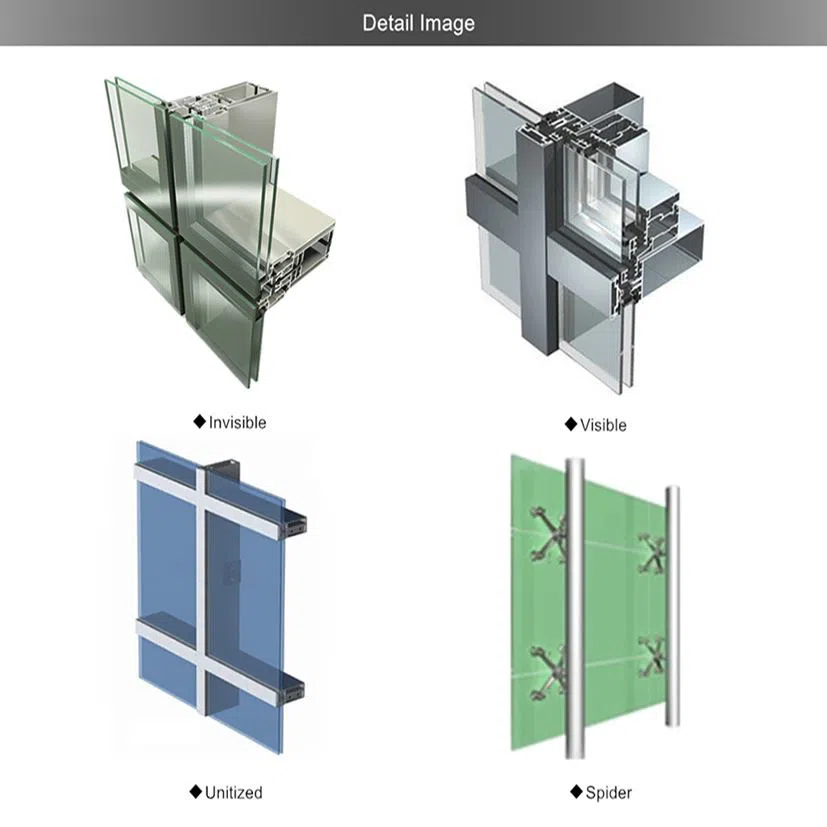 Glass curtain walls are lightweight aluminum-framed facades housing glass or metal panels. These glazing systems don't support the weight of a roof or floor. Instead, gravity loads and wind resistance transfer from the surface to the building's floor line. Curtain walls are often part of a building envelope or comprises one part of a wall system. Each glazing system requires careful integration with other adjacent structural elements such as wall claddings, roofs, and wall details. Curtain wall systems range from standard prefabricated systems to specialized custom wall units. Increased costs often come with additional customization and larger sizing.