Description
Production Introduction
1, Reduce the heat conduction: the use of heat insulation broken bridge aluminum alloy profile, the heat conduction coefficient of 1.8 ~ 3.5W/㎡· K is much lower than the ordinary aluminum alloy profile.
2, Prevent condensation: the temperature of the inner surface of the profile with heat insulation is close to the indoor temperature, reduce the possibility of indoor moisture condensation on the surface of the profile due to supersaturation.
3, Energy saving: in winter, the window frame with heat insulation can reduce 1/3 of the heat loss through the window frame;In summer, if it is in the case of air conditioning, the window frame with heat insulation can reduce the loss of energy more
4, Protect the environment: through the application of heat insulation system, can reduce energy consumption, while reducing the environmental radiation caused by air conditioning and heating.
5,Healthy: The exchange of heat between the body and the environment depends on the temperature of the indoor air, the speed of the air flow, and the temperature of the outdoor air.By adjusting the indoor temperature of doors and Windows, so that it is not less than 12 ~ 13℃, has reached the most comfortable environment.
Product elements
Name

Aluminium Swing Door

Frame

Aluminium Alloy

Surface Finished

Powder coating or Customized

Glass Thickness

6mm thickness or Customized

Glass type

Customized

Color

Grey/Blue/black/White/Customized

Hardware

Top Brand Hardware

Packaging

Air Bubble Film + Plastic Film

As per your specific requests

Warranty

More than 5 years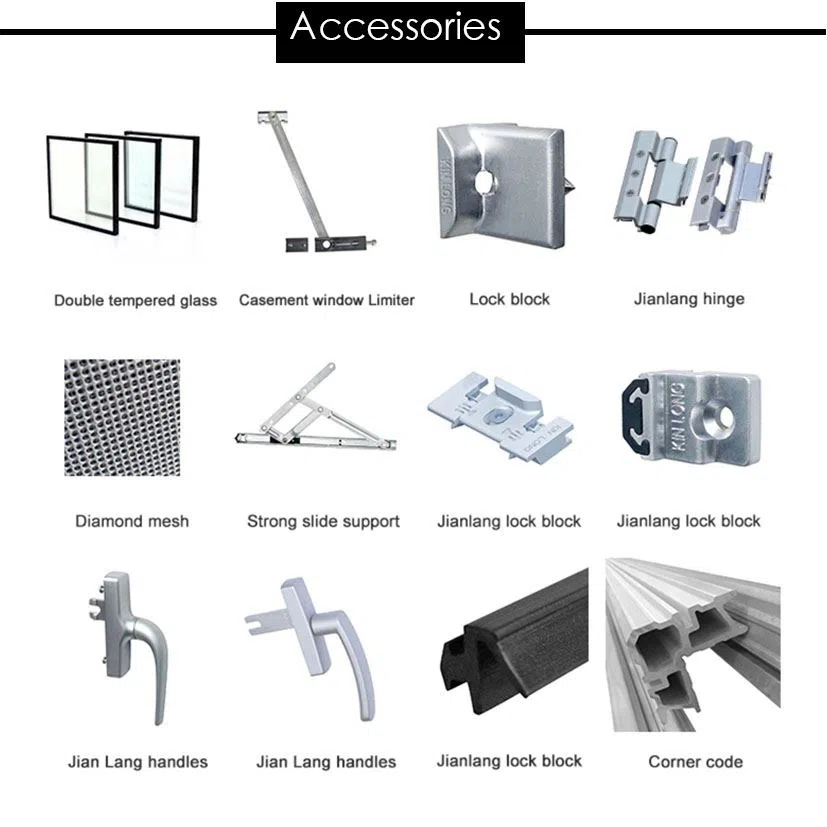 6, Reduce noise: the use of insulating glass structure with different thickness and insulation broken bridge aluminum cavity structure, can effectively reduce the resonance effect of sound wave, prevent the transmission of sound, can reduce the noise of more than 30dB.Because it is a little so much, so now many families are used to decorate the broken bridge window of the new hausen, sound insulation, environmental protection and durable, no longer afraid of insomnia.
7, Color rich and colorful: anodized, powder spraying, fluorocarbon-spraying surface treatment can produce different colors of aluminum profiles, after rolling combination, so that the heat insulation aluminum alloy doors and Windows to produce indoor and outdoor different colors of the two-color Windows.