Description
Product Details
There are single-opening and double-opening swing doors. The aluminum swing door with one panel means there is only one door panel, one side is used as a door shaft, and the other side can be opened and closed. The aluminum alloy double swing door has two door panels, and the door shaft of each door panel can be opened in two directions. Aluminum alloy swing doors can be divided into one-way opening and two-way opening.One-way opening can only be opened in one direction (only push in or pull out) and two-way opening means that the door leaf can be opened in two directions (for example, a spring door). Swing doors are relative to other opening methods because there are still some doors that can be opened, turned, rolled up and down, lifted and rotated vertically.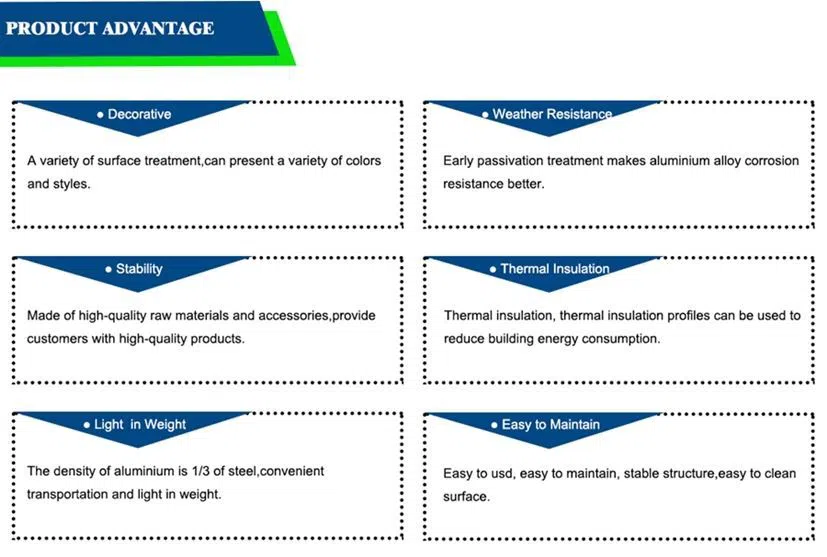 Aluminium Swing Door Frame:
(Pls tell us the frame color and surface finish, door frame can be customized)
◆Powder Coating
◆Wood Grain
◆Anodized
◆Electrophoresis
◆Any color
Aluminium Swing Door Specification:
(Pls tell us the size, type, with or without mesh, glass and so on. Aluminium Door can be customized.)
◆Size: Width and Height
◆Type: Swing Door
◆Fly Screen: Fiberglass fly screen/ Stainless steel security mesh / Aluminum security mesh /Retractable & invisible fly screen /without fly screen
◆Glass: Single/double/triple glass/Laminated glass/Insulating glass/Thickness can be customized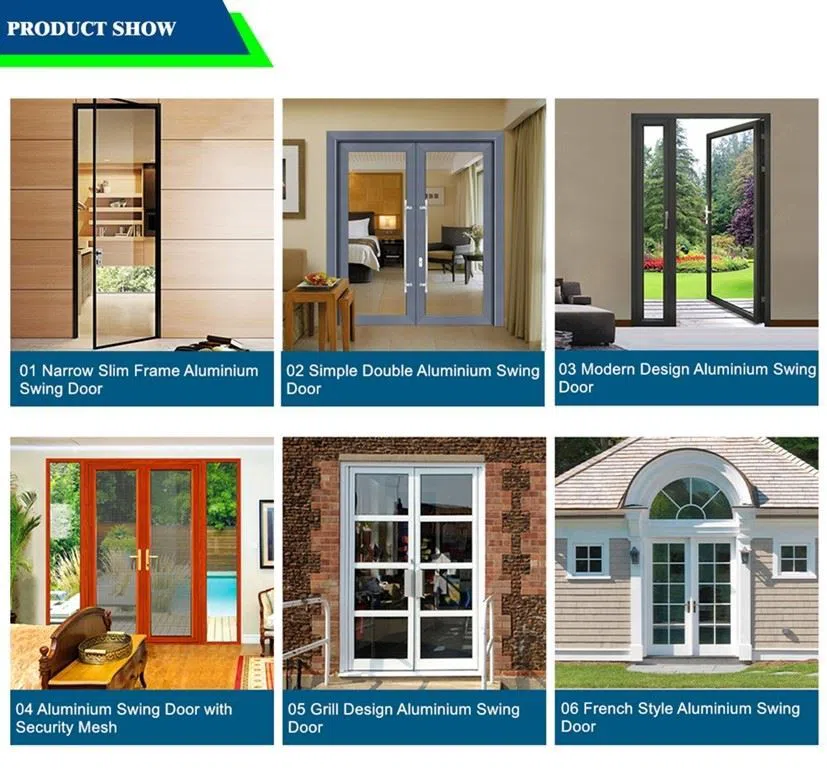 Feature:
◆Double Glazed Swing Door are popular with the public because of its features. It has the following characteristics:
-Super metal texture: high-grade, beautiful appearance.
-Scratch resistance, high surface hardness.
-Antistatic characteristics, no dust, easy to clean.
-Environmentally friendly, non-toxic, fireproof, heat insulation.
-Fastness, permanent surface.
Team:
◆We have a professional design and engineer team, and can provide products according to your requirements.
-Chinese supplier, specializing in manufacturing aluminum doors and windows, curtain walls, shower rooms, glass railings, wall panels, etc.
-We can provide customized products according to the needs of customers, or send people to the site to install.
Process:
◆We will carry out strict quality control and inspection on all sold products before leaving the factory to ensure product quality.
Please send your project drawings for us to quote you. Welcome to contact us !!!