Description
Product Details
Builtec stainless steel shower room adopt high quality 304 stainless steel material high corrosion resistance, luxury, solid and durable.
Durable Sliding System
Rollers —ingeniously designed, made of 304 stainless steel or fine zinc alloy bearing, high quality, and long useful life.
Rollers pass the test of 50,000 consecutive opening/closing cycles.
Fine 304 Stainless Steel Hardware
High Density Aluminum Frame
A high-quality aluminum alloy with hardness of about 14 degrees, moderate tenacity, wall thickness of 1.2-3.0mm and high resistance to deformation.
The oxide film is subject to 12-hour acetic acid corrosion resistance test and alkali spotting test, wear resistance test and aging test in accordance with the national standards.
Adjustable profile can be adjusted +-20mm.
Water Tight Seal
Most innovative gasket design with bi-folding creates a perfect water-tight solution.
Strip by water cycling designed for better sealing.
The wall joint folder designed to facilitate the effective error correction walls. They can be adjusted out of +-15~20mm meeting with every bathroom wall requirement.
Name

Shower cubicles

Frame

Aluminium alloy or frameless or SS 304/316

Appearance style

1.Square

2.Half- round

3.Diamond

4.Horizontal

Hardware

Top brand hardware

Glass thickness

8-10mm

Glass Type

Tempered glass

Glass finished

Clear, pattern, and frosted, etc.

Application

Hotel, apartment, and villa, etc.

Factory

Yes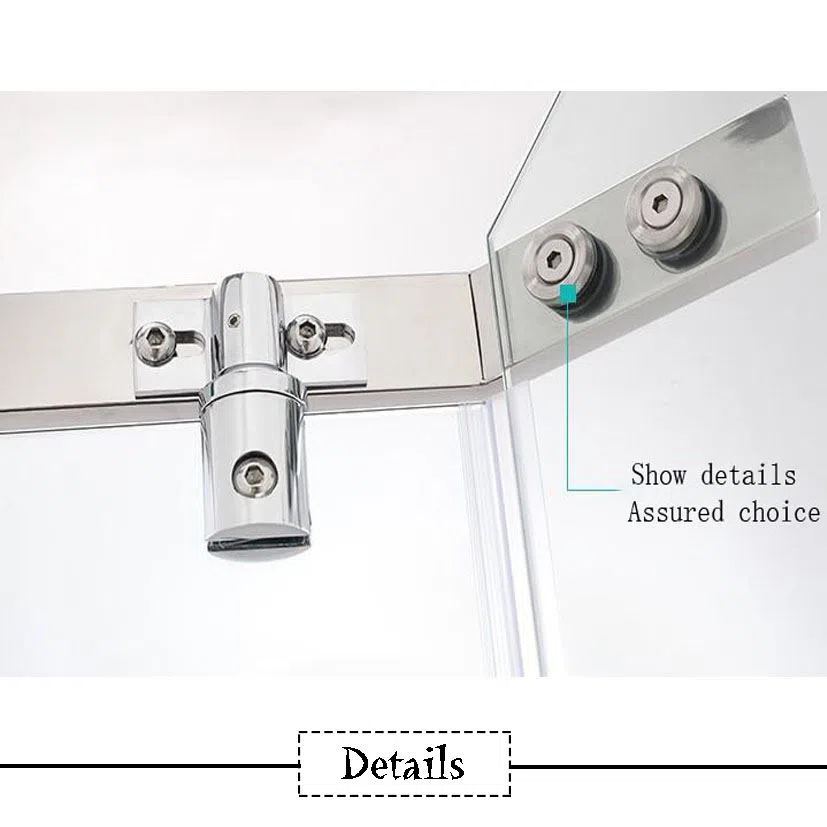 Safe Tempered Glass
Tempered glass are tested and comply to the global certification standards: DIN EN12150 , AS/NZS 2208:1996 , ANSI Z97.1-2004 , BS6206, CAN/CGSB-12.1-M90
Automobile grade safe glass, high purity,good impact resistance.
More than 60-80 glass fragment per square 50mm glass .(Safe glass standard is more than 40 glass fragment.)
Available for clear, blue, gray, colorful, silk-screen glass , easy clean and anti-blast wired glass.
Available for 6mm,8mm,10mm,12mm glass.