Description
Product Details
Aluminum bi fold windows can greatly enhance the feeling of openness most homeowners want to experience today. You'll find that they fold easily to maximize your living space, and they have a very elegant appearance. They also operate very smoothly, by means of a top roller that is very cleverly hidden within the structure of the window. Because the mechanism is concealed, it's protected from dust and other contaminants. This means that it doesn't need to be cleaned, and it's also more pleasing aesthetically than an exposed roller.
Your aluminum bi fold windows will never rust or rot, and they're made with baked on or anodized finishes, so you'll never need to paint them. They're also very attractive, and certain to add curb appeal to the exterior of your home.
Folding windows have long been a popular choice by home owners and builders for their excellent functionality and value for money. Because of its easy install and operate features, folding window plays an important role for a perfect balcony or any space division.
Name
Aluminium Folding Window
Frame Material
Aluminium Alloy
Material
Aluminium alloy+glass+accessories
Opening pattern
Horizontal
Glass
Clear tempered glass
Single tempered glass
Frosted tempered glass
Double tempered glass
Profile Color
Traditional grey and black
Modern white and red
Hardware
Top brand or customized
Size
Customized
After-sale service
Online technical support
Return and replay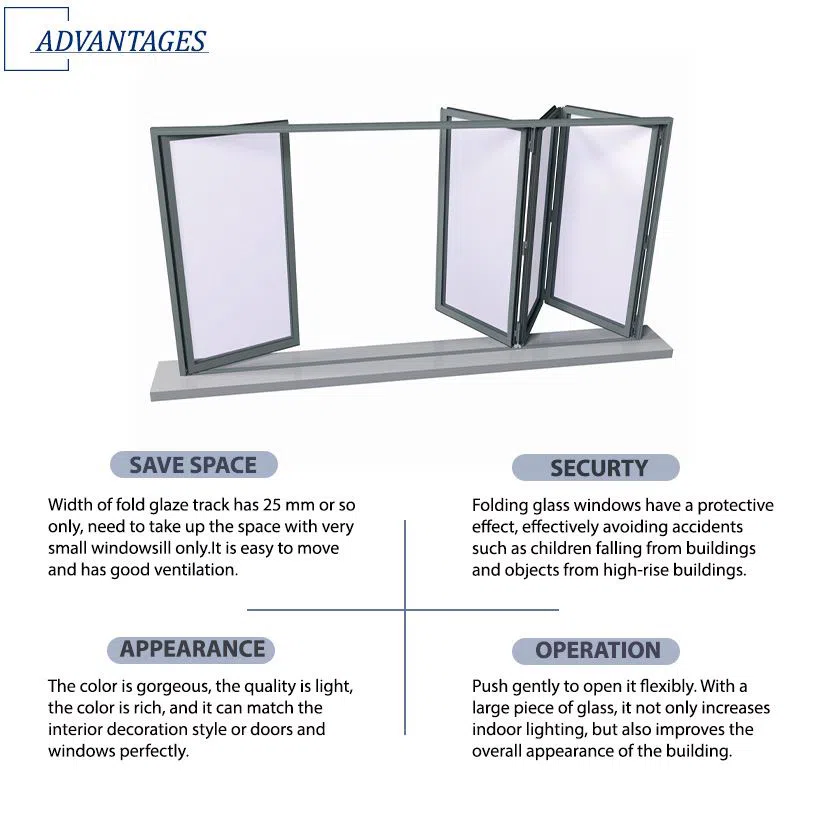 Aluminum alloy profile, high strength, not easy to deform, strict quality control, durable.
Angle group technology adopts single piece glue injection and Angle group technology, 45 Angle seamless stitching, close suture.
Sash lock, open and close smoothly, high quality durable, easy to use, simple and fashionable design.
Hollow tempered glass filled with argon gas greatly improves the energy saving and heat preservation performance, and meets the needs of customers for noise reduction.
The folding hinge is made of stainless steel, strong and durable, noiseless, low wear, clamped installation and fixing method, to achieve better sealing.