Description
Product Details
When designing aluminum doors and windows, BUILTEC's designers choose the standard window type as much as possible according to the different needs of the project, so as to facilitate the design, production, construction and reduce the product cost. At the same time, the design of the window type should consider different regions, environments and Building type, and meet the physical performance requirements of door and window wind pressure resistance, water tightness, air tightness and insulation performance.
Name

Aluminium Sliding Window

Open style

horizontal

Profile Thickness

1.20mm thickness or customized

Size

Customized

Packaging

Air bubble film+Plastic film

As per your special requirements

Glass Types

single glass,

double class,

tempered glass,

floating glass,

insulation glass,

laminated glass,

low-e glass

Production application

Shopping mall/building/school/ hospital/hotel/ apartment/villa,etc.

packaging

Bubble bag(wrap)/EPE foam+Wooden Crate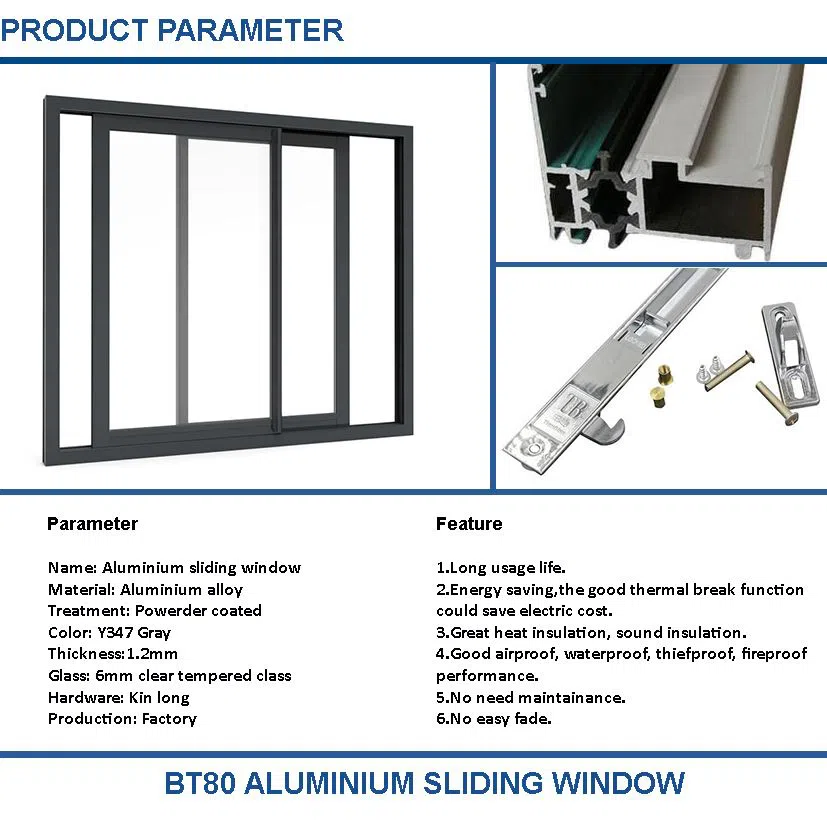 1) Strong plasticity
  Aluminum alloy windows are metal materials, aluminum and various metal elements cast into a variety of alloys, with other doors and windows have unparalleled advantages, light weight and high strength, can be extruded into a variety of complex cross-section profiles, can be Satisfy the door and window designer's various new section material requirements.
2) Good sealing performance
  Confined performance directly affects the use of doors and windows and energy consumption. Sealing properties include watertightness, airtightness, heat insulation, sound insulation and other four aspects.
3) Long service life
  Due to its light weight, high density, precision processing, assembly, and precision, aluminum alloy doors and windows can be opened and closed lightly and flexibly, without noise, easy to use and maintain, corrosion resistance, small deformation, strong fire resistance, and long service life (50-100 years). 
4) Environmental Protection and Energy Saving
  The new material H-UPVC can be used to form a partition space between the internal and external profiles, so that the heat conduction of the aluminum alloy is minimized, the heat insulation and the sound insulation effect are good.
5) Excellent weather resistance
Anti-acid and alkali corrosion and free from air pollution. Acid rain. Ozone attack, UV-resistant, long-term to maintain the inherent color and luster.
6)Elegant decorative effect
  The paint finish uses a powder coating process and a woodgrain thermal transfer film. Powder coating is a high-grade spraying process, with excellent resistance to fading, anti-blooming, anti-oxygen pollution, acid rain and other aggressive, anti-ultraviolet ability, and can withstand harsh weather conditions. Using the thermal transfer technology, the wood grain is transferred to the surface of the metal plate to form a realistic wood grain on the surface of the product. The substrate does not need to be glued, and the plate does not need any treatment after the transfer.