Description
1.Heat insulation aluminum alloy flat window has good heat preservation and insulation.
The soft separation of the inner and outer frame of the heat insulation profile is adopted. The frame is sealed by a rubber strip and a double wool strip. The closure is close, and the air-tight and water-tight performance is particularly good and the insulation performance is superior.
Window sash adopts hollow glass structure, so that the window really shows sound insulation, heat insulation, heat preservation, outstanding function, a lot of savings in heating and refrigeration costs, heat transfer coefficient K value detected by 2.23 2.94 W /2K below, the energy saving effect is significant, a few years of energy saving costs enough to make up for the early.
| | |
| --- | --- |
| Name | Aluminium Casement Window |
| Profile material | Aluminium alloy 6063-T5 can be thermal break |
| Aluminium Treatment | Powder coating/Anodizing/Electrophoresis/Wooden grain |
| Size | Customized |
| Color | Blue/Black/White/Red/Grey etc. |
| Glass | Single glass/double glass/Reflective glass etc. |
| Packaging | Air bubble film+Plastic film/As per your special requirements |
| Warranty | More than 5 years |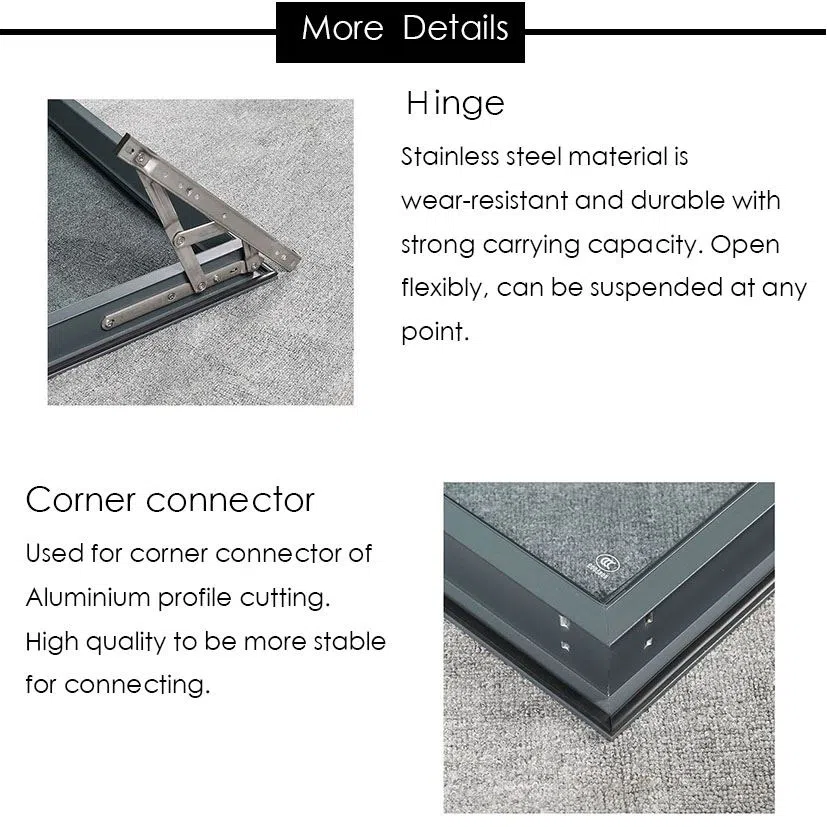 2.Heat insulation aluminum alloy flat window noise prevention and sound insulation.
Its structure is carefully designed, the joint is close, the test result, the air sound insulation volume reaches the sound insulation 30– 40dB, can guarantee the residents within 50 meters on both sides of the highway not to be disturbed by the noise, adjoining the downtown also can guarantee the indoor quiet and warm.
3.Insulation aluminum alloy flat window anti-theft, anti-loosening installation.
Equipped with a common multi-point hardware lock, ensure the stability and safety of the window in use
4. Insulation aluminum alloy flat window sandproof, wind pressure resistance.
The frame straight material adopts hollow design, strong resistance to wind pressure deformation, and good anti-vibration effect.It can be used in high-rise buildings and civil residences. It can be designed with large window type and large lighting area.The air tightness of this kind of window is better than any aluminum or plastic window, and it can ensure that there is no dust on the indoor windowsill and floor in large area with wind and sand.
5.Insulation aluminum alloy flat window to prevent condensation, frost.
Broken bridge aluminum profile can complete the doors and Windows of the three sealing structure, reasonable separation from the water vapor chamber, complete the gas water pressure balance, obviously improve the water tightness and air tightness of doors and Windows, reach the effect of the window clean and bright hall.
6. Heat insulation aluminum alloy flat window advantages with waterproof function.
Apply the principle of pressure balance to design a structural drainage system, slide design inclined plane step type, set up drainage outlet, drainage smooth, good water tightness.