Description
Product Details
Product description
Do you want to buy high quality partition walls? Please choose our company: a manufacturer of aluminum doors, windows and partition walls, with a professional technology and production team, to provide customers with quality services.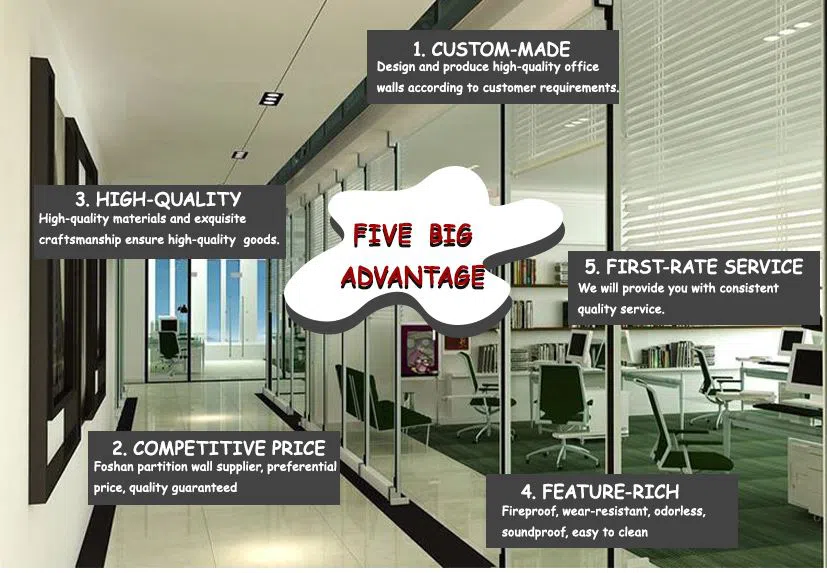 Office Partition Wall Detail :
Product Name
Glass Office Partition Wall
Material
Aluminium alloy frame + glass
Style
Can be customized according to your preferences
Dimensions
Size can be customized
Accessories
China brand accessories: we provide all the accessories
Color
Aluminium frame: any color for you to choose
Glass color: clear tempered glass/custom color
Glass Thickness
8mm/10mm/12mm/custom
Feature
Environmental
Application
Commercial and residential partition wall
The Knowledge of Partition Wall:
◆The color of the office space will affect people's working conditions, job satisfaction, communication comfort and quality to a certain extent. When high-brightness and dark colors are used on a large area of the office space, employees will work better and can experience the vast space environment. However, due to the different sensitivity of individuals to environmental color changes, it is impossible to measure and control the color design of the office environment very accurately.How to design the color style of office partition wall? The color of natural materials is soft, clear, saturated and rich, which can meet the individual needs of different individuals in various aspects such as physiology, psychology and emotion. It is a shortcut to choose the color series of natural materials.
◆If you want a more quiet and comfortable office environment, it is recommended to use double-glazed partition walls. Compared with single-layer glass, the double-layer glass partition reduces noise pollution, and the common laminated glass or insulating glass on the panel, and our laminated glass can choose the thickness by yourself, there are 5mm-8mm to choose from, and the selected thickness can be increased. The sound insulation effect is also relatively improved, thereby improving the office environment.
Product display