Description
Product Details
Curtain Wall Design : When designing the curtain wall, we will recommend the most suitable curtain wall product according to the needs of customers. While ensuring customer needs, we provide customers with more suitable products and more competitive prices, high-quality after-sales service, and achieve the goal of win-win cooperation with customers.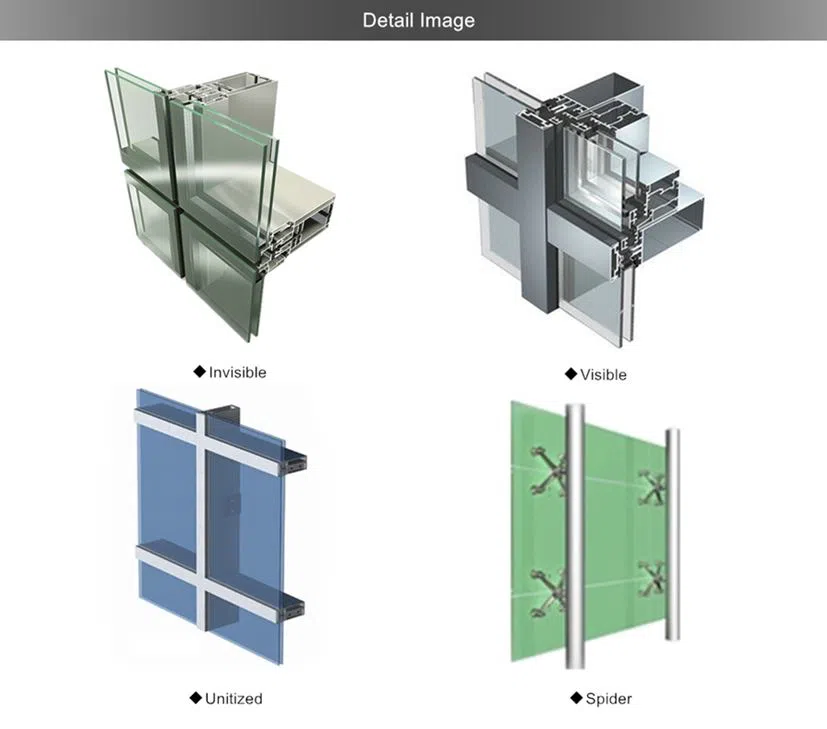 Glass Curtain Wall Parameter:
1, Name: Commercial Curtain Wall.
2, Material: Aluminium alloy and glass and hardware.
3, Aluminium Profile: Thermal break aluminium alloy or no-thermal break aluminium alloy.
4, Profile thickness: 3.0mm thickness/can be customized.
5, Profile Color: custom-made color.
6, Glass: 10-12mm single tempered glass/ 6mm+9A or 12A+6mm double tempered glass/ 5+0.38 or 0.76 or 1.52PVB+5mm laminated glass/ low-e glass / reflective glass/ tinted or clear glass.
Product Advantage:
◆Compared with whitewashed brick walls, marble decorative walls, and granite decorative walls, glass curtain walls are lighter in weight and lower in cost.
◆For high-rise buildings, the glass curtain wall has excellent wind and earthquake resistance and diverse appearance designs.
◆There are various choices of curtain wall design. Can be made according to the requirements of the guests. The glass style, color, thickness, and frame style thickness can all be customized.